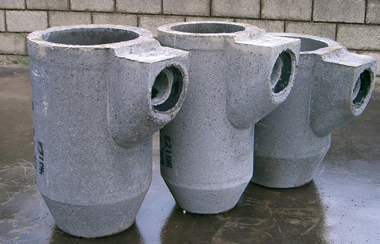 Precast Manhole and Soakaway Rings
Solid and perforated manhole rings available from 900mm Ø  up to and including 3000mm Ø. These units can be supplied with or without fixed double rungs. The relevant heavy duty cover slabs are also available either with standard or special access openings.
Concrete Gullies
450x750mm and 450x900mm are available and can be supplied with adaptors for connection to clay or plastic pipe.
Inspection Chambers
600 x 450mm,  750 x 600mm, 1000 x 675mm and 1200 x 750mm units are available in several depths. Also cover slabs to suit.