We are stockists of a complete range of clay drainage products. Being a Premier Plus stockist of Hepworth Clay we can supply large national contractors as well as all local contractors. For larger quantities we can also arrange direct to site deliveries.
Clay Pipes
SuperSleve HouseDrain 100mm, SuperSleve 150mm, SuperSleve 225mm and SuperSleve 300mm
Fittings and Channels
Bends, Junctions, P-Traps, Hoppers, Rodding Points, Adaptors, Channel Pipe, Channel Bends, Channel Fittings etc.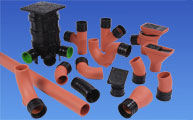 Universal Access Chambers
100/110mm PPIC Polypropylene Inspection Chambers, Mixed Base PPIC Polypropylene Inspection Chambers, Raising Pieces, Sealing Rings, Base's, Adaptors, Stoppers, Round and Square Ductile Iron Covers & Plastics Frames and Round Composite Covers & Frames etc.
Clayware Accessories
Lubricants, Expanding Pipe Stoppers, Lever Locking Stoppers etc.
Repair Couplings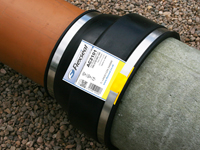 We are able to offer an extensive range of Flexseal Standard and Adaptor Couplings.
Stocked Standard Couplings include – SC120, SC137, SC175, SC185, SC185, SC200, SC275, SC290 and SC385
Stocked Adaptor Couplings – AC5144, AC1922, AC1923, AC1924, AC6000 and AC2754
Any other sizes can be ordered if required.